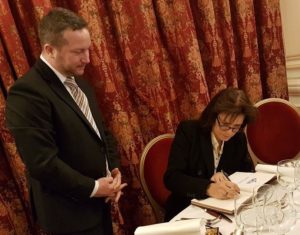 The "Circus Manifesto", presented and signed last weekend at the 41st International Circus Festival in Monte-Carlo aims to present the values of European circus-art and its positive impact on youth unemployment and on society overall. Initiated by Istvan Ujhelyi MEP, responsible for tourism in the European Parliament, the "Circus Manifesto" enjoys the support of numerous circus organisations and ensembles, while Her Serene Highness Princess Stéphanie of Monaco, President of the Festival International du Cirque de Monte-Carlo and honorary president of the Federation Mondiale du Cirque was the first signatory of the document.
Supporters of the Manifesto call upon decision-makers to acknowledge that circus art is an integral part of European culture and economy, therefore it must receive commensurate recognition and attention. Furthermore, the manifesto demands the comprehensive EU-level harmonization of rules concerning certifications and licenses issued for circuses; the establishment of state-subsidies to circus-schools; the recognition of social- and youth circus-pedagogy as a form of higher education; the acknowledgement of social circuses having a positive social impact; and the more efficient cooperation between the circus and tourism industries as it benefits our overall European economy.
Signatories also encourage the establishment of an independent quality assurance system – also initiated by the Hungarian MEP – that would rate circuses regularly and recurrently. Thus the "Big Top Label" – the Michelin-star of circus arts – could act as quality guidance ensuring that the highest standards of animal welfare, training circumstances, and cultural vale delivered are all respected.
Read the full text of the Manifesto: www.circusmanifesto.eu
22.01.2017.