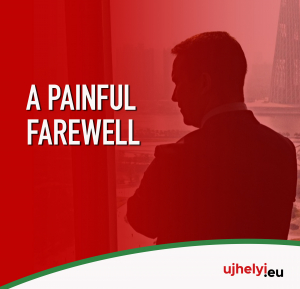 Something is broken beyond repair. I never thought that it would get to this. That so many wounds could be inflicted and not just on me, but certainly also on the body of my community, by a relationship falling apart. I write these lines after a long period of brooding, inner anguish and mourning.
Something is broken beyond repair. I have tried to exist as a fakir on the splinters, but I just cannot go on. After ten thousand six hundred and twenty-three days, I am saying goodbye to the Hungarian Socialist Party. I have tried to give at least as much back to this community over the past decades as I have received from it – I believe I have succeeded. I joined MSZP at the age of eighteen and it has been my second family for almost two-thirds of my life. It is to its members and voters that I owe my political career, and to the movement that I owe the experiences that will stay with us forever. I will never forget all this, how could I? It is not to them that I am saying goodbye, but the mechanisms and blinkered lack of vision of today's MSZP.
Something is broken beyond repair. My conscience is clear, because the lack of change was not up to me. I have tried to shake up our party community on more than one occasion in recent years, and after the last shocking electoral defeat I outlined our own situation with unsparing honesty and undertook the risky but, I still maintain, only chance of revival built on Gyula Horn's pillars. Was I wrong to hold up a mirror to ourselves with blunt honesty? Perhaps. But I did so not to the detriment of our social worker supporters or membership, but to the interests of our professional leaders. My proposals were driven by my usual heightened emotions, an unswerving adherence to our values and a fear of the quiet disintegration of the rest of our community. But in the end, I had to admit and accept that, for the umpteenth time, I could not break through the wall of petrification. Instead, I incurred the intriguing anger of some, which slowly suffocated the clear air around me. I know that many people, such as our successful municipal leaders, feel the same way.
Something is broken beyond repair. To those who are disappointed in me now, I offer my hand of friendship asking for their forgiveness and understanding. We have a long life to bear personal grudges. Our common struggle for a free, democratic, European Hungary still awaits us as a team. And in order to represent social democracy and to revitalize its social power, it may well be that our paths, which are now diverging, will cross again in a common movement. Our historic challenge is to ensure the well-being of Hungarian people, to represent our fellow citizens who can barely survive on their own earnings or pensions, to raise the health and education sectors from the left, and to modernize Hungary along the lines of European values. This has not changed, and neither have I.
Something is broken beyond repair, but that does not mean that I am giving up the fight. I am a politician. I have goals, plans, faith and strength to shape the destiny of our common country. The NER (Orbán's so-called "National Cooperation system") is not eternal; it will not remain forever leeching off the nation's neck. I will continue my work in the European Parliament, recognized by prestigious institutions with awards, and I will continue to relentlessly represent the interests of the Hungarian social democratic electorate, but now without being a member of the Socialist Party. I know that my current decision may even mean that I will no longer have the opportunity to serve in this capacity in the next term of the European Parliament, but until then, everyone can expect the same activism and militant work from me that they are used to. By letting go off my party membership, I will continue to build the civil network of the Chance Hungarian Social Democratic Community, and I will continue my fight for Hungarian interests in Europe and for European values in Hungary.
Something is broken beyond repair. The results of my professional work in Europe and the struggle against the NER will provide the bandage for my psychological wounds. Breaking with my beloved community that was a family to me is painful, but it has to be done. I will leave no thorns, open no new wounds, I will not shoot back, just close this period. Until we meet again, my fellow members!
This is an extraordinary Sunday MEP open letter. It's the only one of its kind. As I have done every week since 2014, I will continue to ring the bells of alarm. Because it is necessary.
István Ujhelyi MEP
S&D Group
Brussels/Budapest – 02/10/2022