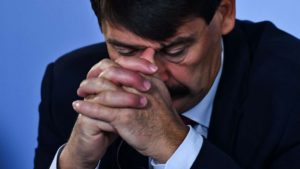 How does János Áder feel now? Is he not ashamed of Fidesz' huckster policy? Are you not embarrassed, Mr. President? Your boss, Viktor Orbán and his government have just blocked the EU climate plan: more precisely that, by 2050, EU countries only emit as much carbon as they can compensate for. The leaders of the European Union are working to tackle the increasingly threatening climate emergency situation of global droughts, floods and extreme temperature fluctuations. But then Viktor Orbán comes with his illiberal buddies and puts a stick between the spokes. Because nothing matters to them. In a confusing way, they refer to defeating the "utility cost demon," but in reality they are simply blackmailing the European community like thugs. Shame!
Fidesz's disgusting attitude is shameful in many ways. On the one hand, the responsible member of the current government recently spoke of climate policy goals that were the same as those of the EU, yet they prevented the adoption of the relevant clause. However, János Áder must have been repeatedly disgusted in the recent past, as not so long ago, for example, MEPs from Fidesz rejected the EP resolution on curbing air pollution from the transport, agriculture and energy sectors.
This means that they did not support solving the increasingly worsening problem of air pollution, when at least ten thousand people die of diseases that are directly related to polluted air in Hungary. However, the voluntary knight of environmental sustainability, the public dignitary of green policy, President János Áder did not have a single word to say. Neither does János Áder have any sane comments to share with his fellow party members now, after the Fidesz climate coup.
I hereby call upon János Áder to clarify his position on the EU climate goals hindered by the orange government! If sustainability and climate protection really matter to him, then he should be brave enough to stand up to his party mates!
In the name of Hungarians who feel responsible for our environment and our future, I also warn him that if he continues to support the Orbán-government's anti-environment policy as a silent accomplice, he should immediately close down his foundation for climate protection and immediately return the nearly one and a half billion forints of public money to the Treasury that he received from the tax revenues of Hungarian people to support his green policy! It is about time he started acting as a real Head of State and a responsible environmentalist as opposed to being a coward and a sneaky Orbán-puppet that he is.
dr. István Ujhelyi
23 June 23, 2019