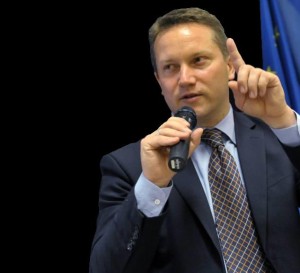 Presidential candidate for the European Commission Ursula von der Leyen held a firm speech at the plenary session in Strasbourg, but I cannot support her election on principle, said MSZP's MEP to Hírklikk. István Ujhelyi told our newspaper: the speech and the outlined program of the German presidential candidate was pro-Europan and observed European values, however, he would not vote for her appointment due to the anti-democratic process of Leyen's election.
"The European Council comprised of heads of state and government ignored the electorate, ignored the directly elected representatives of the European Parliament, when it ignored the top-candidate system and made its proposal based on petty deals made in back rooms, also as regards the name of Ursula von der Leyen. The German politician's pro-European approach and, on more than one occasion, her stance against Orbán, is worthy of support, however, we cannot simply neglect  the way she is about to get elected," said Ujhelyi adding that "the 'top-candidate' system is far from perfect just like there are many unacceptable things in the complicated operation of the European institution system.
However, according to the MSZP politician, the goal is clear: to bring decisions closer to people and to choose leaders as democratically as possible. "What the heads of state and government have done now goes against this, and even makes the European Parliament look ridiculous. As a responsible MEP I cannot be part of this, so I vote against their candidate" said István Ujhelyi.
The MSZP MEP also told Hírklikk that while he supported the presidential candidate's program, but not the process of her appointment, Fidesz did just the opposite: while they celebrate Leyen's nomination as their own success, her pro-European program outlined today obviously gives them the creeps. According to Ujhelyi, if Ursula von der Leyen finally receives the necessary support, a very interesting period is to come for Viktor Orbán and Fidesz, as the candidate they support will go against them in all major European issues. "In the autumn, we will also vote on the composition and program of the European Commission. If not only in words but also in the composition of the Commission, the importance of the social Europe program, such as the European minimum wage or the youth guarantee program, will reoccur, as well as  its commitment to fighting against policies like those of Orbán, I will vote for the Commission," concluded István Ujhelyi.
17.07.2019.