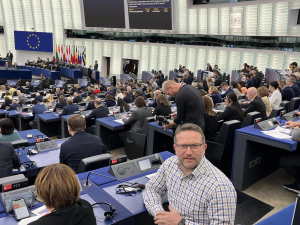 It is extremely sad that once again the rule of law in Hungary was on the agenda of the European Parliament, as there is no other EU member state outside Hungary whose political leadership and state corruption mechanisms have been so much on the agenda of the institution, István Ujhelyi said at his press conference in Strasbourg, which was also broadcast on his social media page. The Social Democrat politician underlined that the "Hungarian debate" in the EP plenary session was basically about corruption and the government's response to it, which the majority clearly called insufficient. Ujhelyi stressed, however, that "pains him"; that, in addition to corruption, little was said about, for example, the threatening and governmental intimidation of teachers, while the restriction of teachers; strikes and the dismissal of those who express critical opinions clearly violate the rule of law, as does the corrupt use of EU funds.
According to the politician, Hungary will only become a state based on the rule of law when the government shall not steal EU funds for healthcare, Hungarian education, local governments and the Hungarian people, and when teachers have the power to stand up for their own rights and interests. Ujhelyi added that standing up for teachers meant wearing a chequered shirt to today's European Parliament session and to the debate on the Hungarian rule of law.
At the briefing, the Social Democrat MEP also pointed out that the exchange rate of the forint is visibly and clearly "moving together"; with the developments in the negotiations on EU funds, meaning that when it turns out that the government wants to "cheat the EU", the Hungarian currency will immediately weaken against the euro and the dollar, which means that if an agreement on funds is finally reached, the forint will also get stronger.
In response to a question, the politician said that today he had sent a letter to the leadership of the Socialist Group in the EP informing them of his resignation from MSZP and that he would continue his work in the S&D Group, both as a member of the committee and as an MEP.
Strasbourg – 04/10/2022