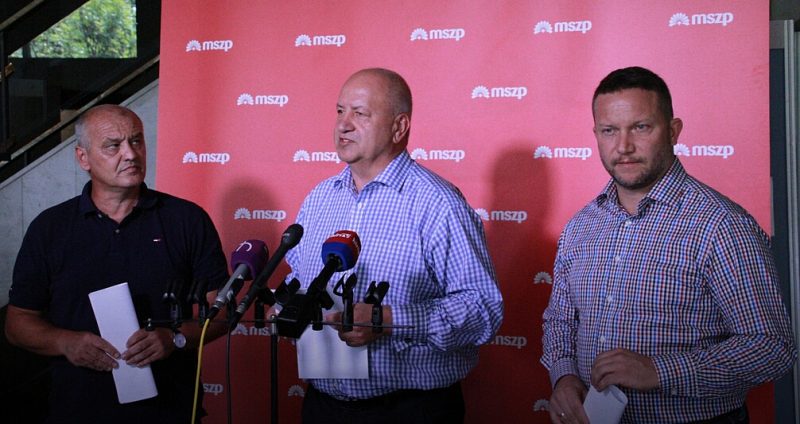 Socialist MEP István Ujhelyi turned to the European Commission regarding the Croatian and Slovenian sewage sludge transported to Hungary. At a press conference on Wednesday, the politician said that as a member of the European Parliament's Environment Committee, he addressed the Environment and Health Commissioners on Tuesday, asking whether the European Commission (EC) had information on the matter, whether they knew about the transport of hazardous substances between Member States which had been going on for years, was all this in line with EU law and whether the European Union had provided the source for these transactions?
The issue is not a domestic affair as it is about trade between Member States that is in serious breach of European law, István Ujhelyi said explaining the reasons for his initiative. He considered the government's response to stop future shipments to be unsatisfactory, while current contracts still allow sewage sludge to arrive in Hungary. István Ujhelyi said that the Minister in charge of the Prime Minister's Office Gergely Gulyás, should answer the matter. He noted that the government would be able, if it so wished,  to close, open, suspend or terminate serious "businesses" within two hours, circumventing all legal frameworks, but now they have made a delaying decision.
MSZP delegated chairman of the Parliamentary Committee on Public Welfare Lajos Korózs said that his requests for information on the case revealed that Hungarian permits for the importation of sewage sludge were issued by the Pest County Government Office that is also responsible for the environment and it was signed by its head Richárd Tarnai.
Responding to a question, he added: Gergely Gulyás is lying if he claims that no permit has been issued for the transport of sludge in Hungary. Lajos Korózs also reported that according to the Croatian Ministry of Environment and Energy, more than 90 thousand tons of Croatian sewage sludge has landed in Hungarian landfills in the last two years: 52 thousand tons in 2018 and 39 thousand tons in 2017. Moreover, he continued, information provided by the Slovenian environmental authorities also revealed that 30,000 tons of Slovenian sewage sludge arrived in Hungary last year. He noted that, according to Eurostat, this 30,000 tons equals annual Slovenian emissions, meaning that every kilogram of Slovenian sewage sludge landed in Hungary last year. Probably "this damn big deal for somebody", "somebody makes billions here," the MP assessed. At the press conference, Pápa's opposition candidate for mayor Attila Grőber said that if the sewage sludge delivery to the town of Pápa was not stopped immediately, they would begin collecting signatures to emphasize their request.
06.08.2019.