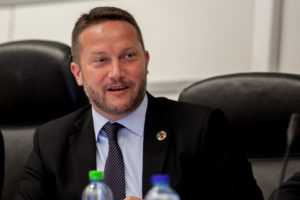 Socialist MEP István Ujhelyi on Sunday presented a ten-point plan to help reduce the emigration of Hungarians. Ujhelyi told a press conference that he had consulted with Hungarians living and working abroad while putting together the proposal which he said he hoped would serve as a "national minimum" for curbing emigration.
The plan proposes the establishment of a state secretariat for emigration affairs, strengthening foreign representative offices, the launch of a rental housing scheme and a programme to promote real wage growth, he said. Further, the first degree for university students should be made tuition-free and the VAT on household internet services should be scrapped, Ujhelyi added.
He also proposed setting up Hungarian language schools abroad, first of all in London. Under the plan, Hungarian emigrants would be allowed to cast their votes by mail or electronically, Ujhelyi added. He said he wanted as many parliamentary parties as possible to comment on the proposal during the upcoming election campaign. Ujhelyi said that 600,000 people have emigrated from Hungary in recent years, adding that certain surveys indicate that a further one million people could follow in their footsteps.
"This will be a new, modern-age Trianon for Hungary," Ujhelyi said, referring to the WWI peace treaty under which two-thirds of Hungary's territory was ceded to neighbouring countries. He stressed that today's emigrants are generally members of the youngest, most venturesome generation who are ready to start families.
The Socialist MEP said it was "tragic" that the government was "ignoring" the issue and only cared about the fact that Hungarians working abroad were transferring 900 billion forints a year (EUR 2.9bn) of remittances.
(dailynewshungary.com; 05.11.2017)