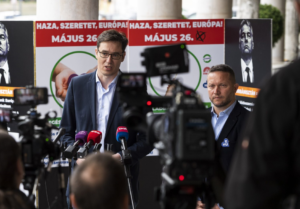 "All politicians and oligarchs who abuse laws and EU funds beware, because if we get to replace Orbán's regime next year, the first thing we will do is join the European Public Prosecutor's Office," said Socialist MEP István Ujhelyi at his online press conference on Thursday. He confirmed that his party fully supports the five-question referendum on, among other things, joining the EU Public Prosecutor's Office, which was put forward by prime ministerial candidate Gergely Karácsony.
MSZP's European politician added that the current government will probably hinder the referendum with reference to administrative reasons, but that the opposition community must make it clear that it is united in its support for the referendum questions and for joining the European Public Prosecutor's Office. The latter is confirmed by the polls, too: according to the latest survey by Závecz Research, the majority in Hungary is in favour of accession; and even among Fidesz voters, there are more who support cooperation with the EU prosecutor than those that do not.
At the press conference, Ujhelyi stressed that "Orbán and his regime are running" from the European Public Prosecutor's Office because they fear any independent body that can "look into their dirty games". The Socialist politician pointed out that Hungary is the ultimate EU leader in fraud and irregularities committed with EU funds, and one of the most important findings of the recently published rule of law report was that EU public funds are not safe in the system set up by the Hungarian government. 
Ujhelyi stressed that this is why the European Union is considering a possible freeze on funds, and not, as the government propaganda claims, because of the adoption of the homophobic law. "If we do not want Hungary to lose money and if we want to receive in time and use the unbelievable amount of EU funds that Hungary is entitled to, the Hungarian government must put the rule of law in order. If the current one is unwilling to that, the next one will," Ujhelyi added.
Budapest/Brussels – 29.07.2021.