Published: 19.5.2016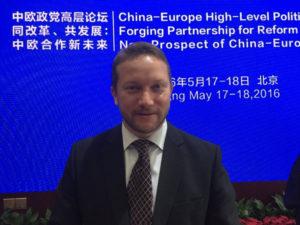 To Europe, China's Belt and Road Initiative is not only about goods, but also about people-to-people exchanges, especially in the tourism industry, says Ujhelyi Istvan, vice-chair of the Transport and Tourism committee of the European Parliament.
Istvan says that people-to-people exchange is becoming more important between China and Europe. Now both sides face similar challenges, such as developing economy and creating jobs for young generation. So China-Europe relationship should be deepened, although both sides may not always agree with each other, but mutual interest is still huge.
Last month in Europe, he has helped launched the Europe China One Belt One Road Culture & Tourism Development Committee, which aims to promote exchanges in cultural and tourism sectors between China and Europe.
He says that tourism industry in the world economy sees the biggest and fastest growth, which is the case in Europe, in the US, and is the same in Asia and in China.
In Europe, the tourism industry has created 25 million jobs and its annual output value is about 350 billion Euros.
"A new trend we see is that, China's tourism industry is also booming with the development of the Belt and Road Initiative, and if agencies and companies and entrepreneurs from China and Europe could better connected with each other, it will provide huge potential in this industry," he says.
The number of Chinese outbound travelers in 2015 was 120 million. Those 120 million Chinese outbound travelers spent a total of 684.1 billion yuan overseas, according to China National Tourism Administration.
Istvan says that in 2014, there are about 4 million visits of Chinese travelers to the European Union and this number will definitely grow.
"I hope we could support China and Europe's tourism industries to build connections and offer more opportunities for companies in this industry," He says.
Istvan was in Beijing attending the 5th China-Europe High-Level Political Parties Forum from May 17 to 18, which is followed by a visit to central China's Henan province in May 19.
China and Europe's cooperation under the Belt and Road Initiative is a main topic discussed in the forum, which has attracted more than 80 European leaders representing more than 30 political parties from 24 European countries, regional European political parties and political party groups in the European Parliament.
By Chen Yingqun (chinadaily.com.cn) 2016-05-19