Published: 10.7.2017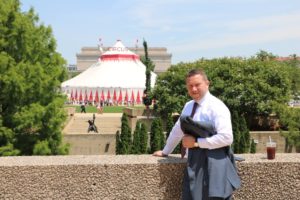 As a continuation of the European Circus Manifesto, the European Union is working on classifying circuses in Europe based on a quality assurance rating system.
The Manifesto, which was signed by several European circus organizations in January, urged the circus community to address the needs and challenges of the changing state of circus arts in Europe. Istvan Ujhelyi, Vice Chair of Transport and Tourism Committee in the European Parliament, introduced the need for a coordinated policy in order to preserve the values of circus arts within the European Union. As part of his initiative, Ujhelyi presented a classification method, similar to the restaurant industry's Michelin-star certification that provides a quality assurance system for European circuses.
The first workshop that determined the framework of the Big Top Label (BTL) took place in Brussels on the 31st of May. It was a historical event as two circus-theme meetings have never been held within 7 months at the European Parliament before.
The workshop focused on collecting ideas about how to establish an objective, effective, transparent, comprehensive and impartial system. European circus owners and independent experts will develop the guidelines of the rating system.
Mr. Urs Pilz, President of The Fédération Mondiale du Cirque and the European Circus Association, emphasized the importance of the creation of the new system and accentuated that both organizations are ready and willing to offer a platform and professional input for BTL.
The new project aims to distinguish circuses by quality regardless of whether they are small or big, whether they are traditional or new, with or without animals, touring or permanent, performing in tent, arena or theater.  It will be designed to operate all over Europe independently from national regulations.
June 26, 2017 CircusTalk