Published: 15.4.2022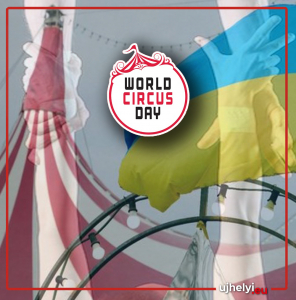 For the thirteenth time, we celebrate World Circus Day, but this time with a far greater meaning and message.
While former President of the European Parliament David Sassoli said: "Circus arts are an important part of our European cultural heritage," President of the European Commission Ursula von der Leyen put it this way: "Circus art is a vivid part of Europe's cultural heritage with a history, in all its forms, that spans centuries."
Now, with a global pandemic threatening our world and a war of bloodshed raging in the neighbourhood of our community and our nations that stand together, cohesion and cooperation are of even greater significance. Just as aerial gymnasts trust each other and cling together over the abyss, so must we preserve the peace and security of our continent and our European Community.
Circus arts are an important cornerstone of European culture. It offers enjoyment and entertainment for many generations and shows them the wonder of diversity and of the delicate cooperation between nations and people. It is important that this special asset is preserved and passed on to future generations.
On this World Circus Day, we would like to express our special solidarity and support for circus artists, circus schools and artistic communities in Ukraine.
Circus art is an art of peace and cooperation. And it shall remain so.
MEP István Ujhelyi
First Vice-Chair of the TRAN Committee of the European Parliament
Ambassador of the World Circus Federation (Fédération Mondiale du Cirque)
Founder of the BigTopLabel European Circus Quality Award
Brussels, 16.04.2022.