Published: 20.4.2019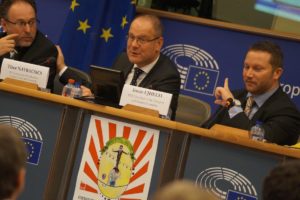 Today we celebrate the tenth World Circus Day, which is – initiated by the Fedération Mondiale du Cirque – commemorated Europe- and worldwide on the third Saturday of every April. Traditional circus arts represent much more than simple entertainment – they have an important role in facilitating cross-cultural dialogue, as well as economic and social cohesion. Circus does not only provide millions with quality entertainment, as the sector employs over 300.000 thousand individuals only in the European Union, while indirectly providing for the livelihood for nearly 8 million people. I am proud that – as a member of the European Parliament responsible for tourism – I was the initiator of the European quality assurance system that highlights those circus ensembles that live up to the highest professional standards. Our "BigTopLabel" title is awarded to only those circuses that fulfil the conditions set up by competent professional associations and experts of the European Parliament, including: legal requirements, employee and consumer protection rights, artistic standards, and strict animal welfare aspects. Last year, under the "BigTopLabel" programme, we, together with Commissioner Tibor Navracsics, awarded three outstanding circuses for their exemplary work. This year we are planning to continue and further expand the initiative.
In 2018 we celebrated the 250th anniversary of modern circus arts, and now we celebrate the tenth World Circus Day. These milestones mark a new era, which must bring about the revival of this unique sector. As a Hungarian, I am especially proud that one of the most meaningful reform attempts of traditional circus arts was undertaken by the Circus Krone (BigTopLabel award in 2018) and Hungarian artists Bence Vági and Krisztián Kristóf. In the next five years, as member of the European Parliament and as a committed supporter of circus arts, I will continue my fight to expand our quality assurance system, while unifying the rules circuses must abide by in a way that it fulfils both professional and social expectations. Only this way it will be possible to keep supporting initiatives that aim to preserve traditional values and at the same time open new horizons.
I hope that in the next European Commission I will find someone just as supportive and dedicated as our partner in the outgoing College of Commissioners.
Istvan Ujhelyi
Member of the European Parliament
Chair of the Tourism Task Force in the European Parliament
20.04.2019; Budapest
Recent posts