Published: 5.6.2015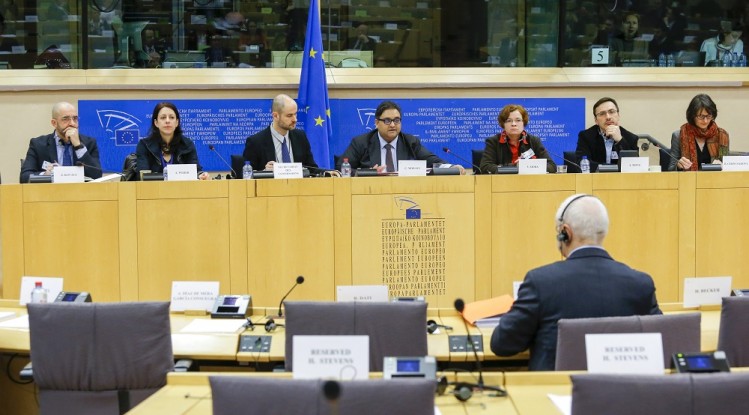 The European Parliament's Committee on Civil Liberties, Justice, and Home Affairs (LIBE) held a public hearing on the human rights situation in Hungary on Thursday in Brussels. Tamás Fricz, who was to represent the pro-government Civil Unity Forum, stayed away from the hearing, arguing that it would be one-sided. EPP lawmakers demanded that a speaker should replace him but other parties present refused, noting that the list of contributors had been unanimously approved in December.
In response, the European People's Party representatives boycotted the hearing. Veronika Móra, head of Hungarian NGO Ökotárs, said that after ten years of stability, the civil sector in Hungary has recently started to face worsening conditions both in legal and in financial terms. She said they fear losing the achievements of the previous years and will be unable to plan for the long term. Attila Mong, vice editor of watchdog NGO portal atlatszo.hu, briefed the participants at the hearing about the media in Hungary, insisting that journalists in the country are subject to increasing political pressure. He raised the issue of the new ad tax, insisting the tax targeted commercial news channel RTL Klub, which, he said, recently added politics to its news mix. State adverts mainly appear in media that are loyal to the government, he said. István Ujhelyi and Tibor Szanyi, MEPs representing the opposition Socialists (MSZP), issued a statement after the hearing, saying that Hungary's rule of law is subject to systemic threat, adding that the hearing had been "a new chapter in the international isolation of the Orbán regime".
Hungary's government spokesman Zoltán Kovács compared the hearing to a soap opera in which "not only the actors but even the scriptwriter has no idea what the piece should be about". He insisted that the majority of subjects at the hearing had been closed issues, which were now being cited for political reasons. He rejected Móra's claim that civil society is under threat as "unserious," arguing that the government has issues with merely a dozen of Hungary's 80,000 or so NGOs. Kovács also brushed off accusations that the Hungarian government is anti-democratic and authoritarian. Kovács insisted that the Council of Europe's recent report contained factual errors in several sections. He rejected the parts referring to an upsurge in anti-Semitism and anti- Roma attitudes, and noted statements by Hungarian Jewish and Roma organisations to the opposite effect. Kinga Gál, a MEP for governing FIDESZ, said the debate had been entirely one-sided, addressing issues "discussed to death" since 2010.
hungarytoday.hu – 01.23.2015
Recent posts