Published: 4.1.2021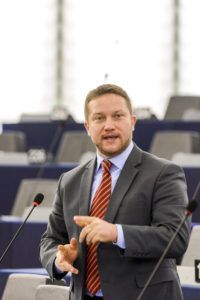 More than seventy billion forints worth of EU funds will be transferred from Brussels tomorrow under the European Job Protection Program. This is the first tranche of the EUR 500 million, or roughly HUF 180 billion, individual loan package approved for Hungary. The only question is: who is to get any of it?
Back in the spring, during the first wave of the coronavirus epidemic, I called on the Hungarian government several times to make the widest possible use of the resources available through the European Union's crisis management, for example by the drawdown of funds from the Employment Protection Fund (SURE program).
At first, the Fidesz government denied even the existence of these EU support instruments, but over time they were forced to admit that they had applied for a credit line worth billions of forints from a program to help finance expenditures related to reduced working hours and similar measures. It is particularly noteworthy that, as it turned out from the details of the disbursement, Fidesz will now also finance the one-time benefit of five hundred thousand forints paid to healthcare workers from this loan, which was originally demanded by MSZP for the employees of the sector.
But the same is true of the exemption for small taxpayers taxing under the KATA system, which the government also intends to cover from this Brussels resource.
Fidesz continues to hide the technical or other substantive reasons that led to the acceptance of the Hungarian government's application with a significant delay and with some reduction in the amount initially requested. Similarly, we still have to wonder why Fidesz MEPs recently did not vote in the European Parliament for a resolution that would have made this transitional financial instrument constantly available due to the growing impact of the epidemic.
For the time being, however, the biggest question continues to be who will benefit from this concessional EU loan and to what extent the Hungarian state will help. There is concern that this time once again only the NER's (Orbán's National Cooperation System) pets and oligarchic financiers will be able to benefit from the support.
I therefore call on the government to account item by item which companies can access the loan, which medical equipment purchases they wish to post-finance from this budget, which state-owned companies 'costs of special measures' and which 'measures to protect the health of public officials' will be financed from this envelope.
István Ujhelyi
Member of the European Parliament
Budapest / Brussels – 30.11.2020.