Published: 21.12.2021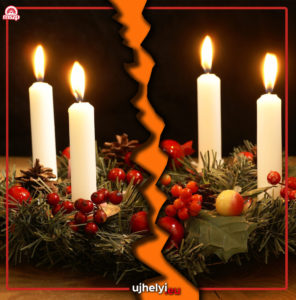 I admit that to this day I feel queasy when I hear pro-family propaganda from government officials (and before the media commando extracts this half-sentence and starts a smear campaign, please do read on), not because I have a problem with supporting Hungarian families by any means, but because I find the false piety-soaked narrative that the NER elite are drenching it all in to be infinitely hypocritical and fake.
I find it evil to the core that the Fidesz government is parading as the saviour and supporter of families, when in the last decade they have committed numerous crimes against them. For example, they have torn apart many families with their calculated hatred, which has poisoned the lives of countless people for generations and for which they have not even a shred of shame.
It is the fourth Sunday of Advent. The fourth and last candle is always a symbol of love. With respect to this, I too try to share my thoughts in a restrained yet straightforward manner. But you have to wonder whether the leaders of the NER elite, when they gently light the candle of love in privacy, surrounded by their families and loved ones (and post it like a shop window on their social media pages) think of the families that have been torn apart over the last decade by their exclusionary hate policies?
Indeed, there are many families in Hungary that will not be sitting down together at the Christmas table in a few days' time because one half of the family has accepted and believes it to be true that the other half are effectively traitors, simply because they have a different view of the world and the fate of the country. There will be no cozy and large family Christmas dinners in many homes because Fidesz, fuelled by infinite and calculating evil, has split this nation in two; it has allowed, and even encouraged, that political affiliation become more important than family ties. They have inflicted wounds that will not be healed for a long time to come and that will not be erased by billboard slogans of false piety and pretentious rhetoric.
It would be a cheap, overused joke to note that Fidesz's 'family-friendly' governance can really only be detected in the way they legislate, take economic measures and divert public assets to serve the interests of the families of the NER elite. A much used, popular reference indeed, but true nonetheless. Meanwhile, as MSZP co-president Bertalan Tóth rightly pointed out in yesterday's Népszava article, a significant proportion of families have not only received no help from the government, but have been worse off in recent years. The amount of the family allowance, child support, child benefit and maternity allowance has remained unchanged for 13 years, while the poverty rate of single-parent families, for example, has increased by almost a third in two years. Fidesz refers to the family tax allowance, but this is only partly justified, as they are hiding the fact that parents who do not earn enough to comply with the regulation cannot take advantage of this opportunity. Those who earn a lot, on the other hand, are better off. Moreover, the forint has recently become much weaker, with inflation at a rate not seen for 14 years, and Hungarian families have to pay much more for everything.
From the decks of yachts and private jets, I am sure that things look different. But reality always comes knocking, even on carefully curtained windows. Fidesz has turned love into hate, security into insecurity, community into narrow elites, and the nation into sects. I hope that when they light the candle of love this Sunday, they will remember for a moment what they have done to this country.
After the Hungarian Prime Minister's landmark speech in Tusványos in 2014, proclaiming the illiberal state, I vowed that, as an MEP, I would write an open letter every week to warn the public of the regime's crimes. For the three hundred and twenty-ninth time, I am ringing the bells of alarm, because it seems necessary. And because, as a radical European democrat, it is my duty to do so.
István Ujhelyi
Member of the European Parliament
19 December 2021