Published: 12.4.2022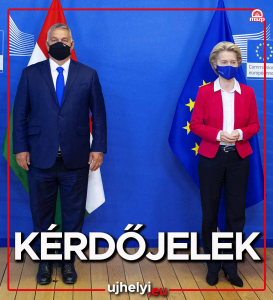 Reaction to Viktor Orbán's press conference.
Viktor Orbán continues to deliberately mislead the public about the results of government negotiations and discussions with the European Union. In doing so, he is, to use the Prime Minister's own words, deliberately insulting and disparaging the Hungarian electorate.
The Prime Minister of Fidesz claimed at his press conference today that only political (moreover, left-wing) pressure is behind the freezing of EU funds in Brussels and the withholding of subsidies to Hungary. Viktor Orbán is deliberately lying, as he is directly conflating the delayed disbursement of the Recovery Fund with the rule of law mechanism, and he sees a political agenda behind a procedure that he himself supported and on which the European Court of Justice has already clearly expressed its position.
Orbán claimed that he had already reached an agreement with Brussels on, among other things, the review of the system for allocating EU funds and the expected action against corruption at state level, claiming that the only issue still open for discussion was the so-called 'child protection' law. This is another deliberate lie to mislead Hungarian voters. The latter is the subject of a separate procedure and does not affect the payment of any of the subsidies in question.
I call on the Prime Minister of Fidesz to disclose his official and unofficial communications with European Union decision-makers on this matter, and at the same time explain what commitments and guarantees he has undertaken towards Brussels in order to eradicate corruption and protect EU funds, that is, if the Prime Minister's statement is true and an agreement has indeed been reached with the EU.
Hungary is entitled to EU funds and subsidies. Their late availability is causing serious damage to our country. In the case of the Recovery Fund, more than six thousand billion forints are at stake, while in the case of the multiannual EU budget subsidies to which we are entitled, more than eleven thousand billion forints. It is therefore a legitimate expectation that the government should do everything in its power to provide adequate guarantees and ensure that the public is properly informed.
István Ujhelyi MEP
Budapest/Brussels – 06.04.2022.
Recent posts