Published: 8.5.2020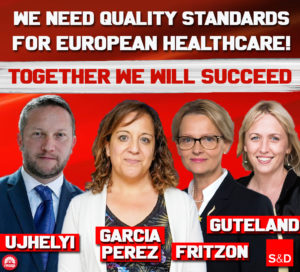 "If not now, when?" – asked Leader of the Progressive Alliance of Socialists and Democrats European parliamentary group Iratxe Garcìa and Vice-Chair of the Group in charge of Health Heléne Fritzon in a joint statement calling for radically new European systems in the field of health.
Leaders of the S&D Group say the coronavirus pandemic has proved that it is time to create a "European Health Union", including inter alia the introduction of minimum care quality standards set by Socialist MEP István Ujhelyi in his program on minimum healthcare service.
According to the Social Democrat Group of the European Parliament, it must be avoided that any of the Member States' health systems become overburdened and get on the brink of collapse, and this requires new EU instruments. The S&D Group proposes that a mandatory stress test be carried out in the healthcare systems of all Member States, and that the European Commission make legislative proposals to establish certain European minimum standards based on the results.
The S&D Group has also proposed the establishment of a so-called "European Health Response Mechanism", which would allow for immediate response to public health crises within the framework of the Union Civil Protection Mechanism.
The European politician of MSZP István Ujhelyi called it an historic breakthrough that the Social Democrats of the EP had accepted and jointly represent the health program he initiated. "Every European citizen, including all Hungarians, is entitled to quality care, and we in the European Community can no longer tolerate such extreme differences in the health systems of the Member States," said István Ujhelyi, recalling that in recent months, he had worked with Hungarian and European professional organizations on a framework program setting out minimum quality and practical requirements to be expected of healthcare.
Ujhelyi suggested that these standards be adhered to in all Member States in the future, and that the European Union provide targeted resources to substantially reduce disparities in primary care. "It is untenable that in Hungary, for example, a patient is three and a half times more likely to get a fatal nosocomial infection than in Germany.
But it is also untenable that children in Italy are much more likely to get serious illnesses due to the shortcomings of the vaccination system there than in Hungary, a European champion in this regard. These differences need to be addressed at EU level, and my program is an attempt for this," said István Ujhelyi.
The MSZP MEP added that the "European Health Union" program proposed by the S&D Group, including his proposal in principle for the minimum standards, was only the first, however, a very important step towards implementation. Ujhelyi emphasized that the details of the Framework Program would continue to be the subject of on-going consultation with relevant professional and non-governmental organizations, but would also involve experts from Member State governments.
Brussels – 07/05/2020