Published: 10.5.2021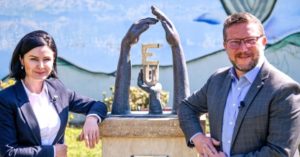 Hungary cannot be in opposition to Europe, we will reshape the European Union together, said MSZP MEP István Ujhelyi, at the Socialist Party's Europe Day online press conference on Sunday.
István Ujhelyi stressed that the European Union is built on cooperation between nations, providing protection from autocratic political leaders or external threats. It is in the interest of us, Hungarians, to remain members of the EU, but to be members of a changing community that can ensure peace, security, welfare, economic cooperation and the everyday livelihood of its people.
He announced that MSZP would join the conference on the future of Europe, launched by the three top EU institutions. The aim of the process is to hold a series of discussions that will bring about a reformed and transformed Europe of the future.
István Ujhelyi also announced a series of dialogues with well-known experts on a month-by-month basis to discuss what kind of Europe would be best for the ideas that fit MSZP's programme. The topics he listed included the European minimum wage programme, the European health programme, climate policy, transport policy, tourism and whether harmonization is needed between Member States in the fields of education and the social sector.
MSZP co-president Ágnes Kunhalmi called the EU one of the most wonderful achievements in history and stressed that the aim of the Community's creation from the very beginning was to preserve and create peace.
She pointed out that the European Community had and still has to face many challenges, which its members have to shape. Examples of such challenges include climate change, drastically widening social disparities, pandemics and the rise of global capital, which often leaves workers vulnerable. Integration needs to be deepened and nation states need to work more closely together; a closed, nation-state policy cannot provide effective responses to the challenges, she said.
"We brought Hungary into Europe and we will do our utmost to ensure that this Community survives", she said.
She called it promising that despite "Orbán's anti-Brussels policy", the vast majority of Hungarians still saw their future in the EU and would join the Community today, too.
"We should not fear that Orbán would lead Hungary out of the European Union, because Hungarians will veto that." Rather, we should be afraid that the new radical right-wing tendencies will try to paralyse and limit the European Union's capacity to act, in order to maintain and finance their authoritarian power while "hiding behind nation-state sovereignty," she said.
She said that when Viktor Orbán and the prime minister's radical right-wing allies exclude their political opponents from the nation, when they stigmatize those who disagree with them, dehumanize their political opponents and "try to block the alternation of political regime again and again", "it has very often led to war in history." According to Ágnes Kunhalmi, one of the big stakes of next year's elections is "whether we can free Europe from the authoritarian Orbán regime."
09.05.2021.