Published: 28.11.2019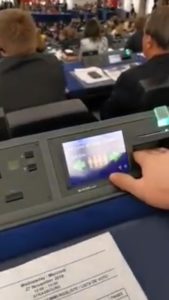 The new European Commission was formed under turbulent and rather peculiar circumstances. For instance, the president of the body , which is considered to be the government of the Union, Ursula von der Leyen was  unacceptably forced upon the European community a few months ago, neglecting, among others, the European Parliament in the nomination process. I rejected this procedure at the time, and as a form of protest, I did not support Leyen.
It was also a matter of principle that I would not vote in favor of a European Commission in which László Trócsányi, who played the important role of "chief legal architect" in creating the illiberal system, was to get any seat whatsoever. However, Trócsányi failed ahead of time in the interim, whereas the second candidate of the Hungarian government Oliver Várhelyi is already a professionally proven, experienced Brussels bureaucrat, who will hopefully prove his commitment and will work solely for the interests of the European Community and not for the Orbán-government.
Apart from my reservations, I also look forward to the new Commission with expectations: besides creating a system of direct resources for local governments, I will also make a proposal on the minimum healthcare provision that I have undertaken to take before the Commissioners as an important priority. It's time to get started as the tasks ahead of us cannot wait any longer. That is why I now voted in confidence of the Leyen-Committee.
dr. István Ujhelyi
Member of the European Parliament
27 November, 2019.
Recent posts