Published: 30.6.2022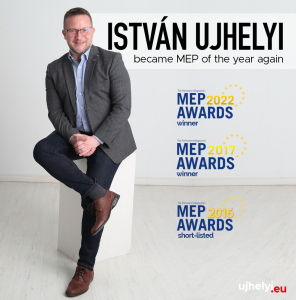 For the second time in five years, MSZP MEP István Ujhelyi is a winner of the MEP Awards – the award was handed over to him in a spectacular ceremony in Brussels on Wednesday evening. The prestigious award is announced and presented every year by The Parliament Magazine, a bi-weekly Brussels-based magazine on EU politics, and the last event was cancelled only due to the covid pandemic.
Politicians compete in several categories, and can be nominated by individuals, MEPs, advocacy groups and NGOs. From the thousands of nominations received, an independent, professional jury makes a shortlist of four MEPs in each category, based mainly on who and how many people or organizations nominated them and the real reasons and work that supports their nomination. István Ujhelyi has been short-listed to be a finalist for the third time this year; in 2017, he also won the prestigious award when he was voted best in the "transport" category. This year, the MSZP MEP was voted the most effective and successful European politician in the "Infrastructure, Transport and Tourism" category, mainly in recognition of his pioneering work to implement and develop the free InterRail ticket scheme and his work as Vice-Chair of the TRAN Committee responsible for the tourism sector, which was the hardest hit by the covid pandemic.
Following the announcement, István Ujhelyi said that it was a great honour for him to have receieved the MEP Award for the second time, especially as he had received numerous nominations not only in the tourism category but also in the health category, including from the Standing Committee of European Doctors. "Just to be one of the final four for the third time meant a lot to me; I must admit that I did not expect to be awarded this prestigious prize again, as a double is quite rare. I am proud to have been nominated by many civil and professional organizations and European citizens, which is the most important confirmation of the effectiveness of my work in Brussels. This is a clear recognition in Brussels that I have succeeded in presenting a number of pioneering programmes representing the interests of Hungarian people, such as the European Health Union, the free InterRail ticket programme, or initiatives that strengthen cooperation between professional tourism organizations and finally bring the sector at large to the attention of Europe"; István Ujhelyi said.
Brussels – 29/06/2022
Recent posts