Published: 6.12.2021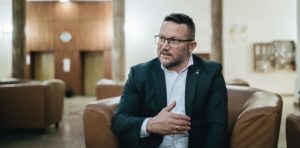 Socialist MEP István Ujhelyi, an esteemed politician in the sector, has been officially asked to be Chief Adviser to the world's most important network of tourism and gastronomy education institutions. This was announced on Monday evening at the World Travel Market travel industry expo in London. The Swiss Education Group (SEG) that asked the Hungarian politician to be its chief adviser, operates 4 independent higher education institutions on 6 different campuses, all of which (Swiss Hotel Management School, César Ritz Colleges Switzerland, Hotel Institute Montreux, and Culinary Arts Academy Switzerland) are among the top 10 colleges of the QS World Ranking. These institutions have more than 6,000 students from over 100 countries, including Hungary.
"I have been working for the development the tourism industry for 15 years now. I have served as Chair of the National Tourism Commission, as Ambassador Extraordinary to the United Nations World Tourism Organization (UNWTO), and as Vice-Chair of the Committee on Transport and Tourism of the European Parliament, as well. I am committed to supporting a sector that provides jobs for 25 million people in Europe and at least 500,000 in Hungary," said István Ujhelyi in response to his appointment as Chief Advisor. The European politician added that the pandemic made everyone realize how vulnerable and exposed all players in the service sector are, from the largest enterprises through small, family-run businesses. "I have long advocated that one of the most important tasks ahead of us is to modernize the underlying vocational training systems; to find, educate and prepare the next generation. From vocational schools through prestigious universities, everyone is working to ensure that there is enough high quality human capacity in the industry. The invitation I received came from the top of this realm of education and I was happy to take on the challenge of helping to develop new programmes, train the experts to lead the future of sustainable and 'smart' tourism, and take part in talent management," Ujhelyi said.
The MSZP MEP said he hoped that many young people from Hungary will also get the chance to attend the famous workshops, for which scholarship programmes and sponsor companies are being sought. "Unfortunately, for many in Hungary today it is still a dream to enter the labour market with an SEG diploma," said István Ujhelyi, whose appointment as chief adviser is for an indefinite period. "This role in shaping the future is not only compatible with my political involvement, but an enhancement," the MEP added.
Brussels/Budapest – 2/11/2021