Published: 3.11.2020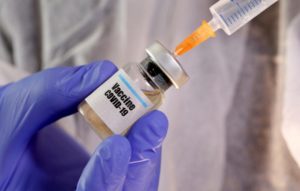 "We are fed up with the government's lies and promises, so we call on them to make it clear: are COVID vaccines that are bought for public money guaranteed to be free for the public or not?" Socialist MEP István Ujhelyi asked at his online press conference on Sunday.
The European politician of MSZP recalled that Prime Minister Viktor Orbán said in a recent radio interview that the first dose of the coronavirus vaccine may arrive in Hungary at the end of December, which will first be given to chronic patients and vulnerable elderly people. According to Ujhelyi, contrary to the claims of Fidesz propaganda, the government was not able to prepare in time to provide routine flu vaccinations to the population in sufficient quantity and quality, so it is a minimum requirement that they announce as soon as possible when and what vaccination strategy will guarantee a safe COVID vaccine for applicants.
"It is a national issue of paramount importance that access to vaccination be free of charge and not available through good contacts or some form of financial privilege," said István Ujhelyi.
The MSZP politician recalled that the European Commission had recently announced that the steps needed for national vaccination strategies had been identified and that a common reporting platform would be set up in Brussels for better coordination. At the press conference, István Ujhelyi also said that he had recently addressed a written question to the government regarding the vaccination strategy and vaccine procurement, in response to which Secretary of State Csaba Dömötör stated that the Hungarian government had joined the joint EU vaccine procurement mechanism launched by the European Commission and when the appropriate vaccine is ready, Hungary will receive 6.5 million vaccines for HUF 13 billion.
The MSZP politician called it supportable that the government was part of the EU procurement processes, but at the same time he said that the as of yet uncertain quality vaccine businesses of government's 'seeker and raider buddies' outside the EU, in Russia and China were redundant. Ujhelyi pointed out that a spokesperson for the European Commission had just made it clear the other day that European citizens could only be vaccinated with a vaccine that had received an EU license; and the Commission has already contracted a total of one billion COVID vaccines for European citizens with six companies.
The Socialist Member of the European Parliament emphasized that on many occasions he had asked the government in vain to respond regarding free access to the future vaccine, and Csaba Dömötör did not make a clear statement in his reply, either. Ujhelyi therefore again called on the cabinet to make a clear statement as soon as possible about the COVID vaccine to be procured from public funds being free for all.
Brussels, 01/11/2020
Recent posts