Published: 5.6.2015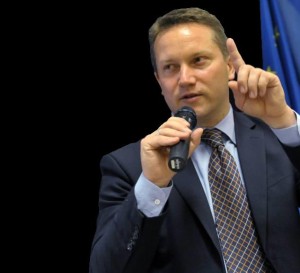 Under changes effective from 1st of January 2015, e-stickers have been introduced for individual counties and Budapest's M0 bypass, which will cost an annual 5,000 forints, or 16 euros. Opposition LMP said it would take the new law to the constitutional court for review, as the party believes the short notice given before the road toll's introduction hurts citizens' rights to legal security. The motion needs support from a quarter of lawmakers. Meanwhile a Hungarian Socialist MEP has demanded that the government should publish impact studies related to its introduction of a new road toll system.
István Ujhelyi, who is deputy chairman of the European Parliament's transport and tourism committee, said, citing a letter he wrote to the minister of national development, that the "propaganda" of the government of Viktor Orbán was "painfully cynical" in that it gave the impression that the new toll amounted "to a reduction in costs for motorists". He accused the government of "milking" motorists and hauliers who use the motorway network, thereby placing an extra cost burden on all sorts of sectors such as tourism. Ujhelyi demanded to know how much investment would be needed to fully implement the changes to the system and which sections of the budget the government intended to use to finance these.
Éva Kurucz, the government spokeswoman, said earlier that the government had mulled plans for a county-based payment system for roads for years. She added that impact studies had been carried out and these would be made public. Previously PM Viktor Orbán had told public radio Kossuth that drivers would have the option to pay an annual 5,000 forints (EUR 16) for using the motorway within a county instead of the annual 41,000 forints charged earlier for the whole country. Commenting on the introduction of a toll on the M0 Budapest bypass, he said the aim is not to impose a tax on the agglomeration. However, the introduction of the new county-based road toll system has rather generated disappointment, anger and uncertainty across Hungary so far in the first days of 2015.
hungarytoday.hu – 01.05.2015
Recent posts