Published: 29.4.2017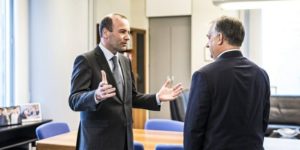 After the letter sent by Fidesz MEPs to EPP members trying to whitewash Orban's anti-European actions, the Hungarian PM was summoned to explain himself in front of members of the EPP family. Orban has brought shame to Hungary and has been trapped in his own maze of lies. He does now know anymore what to advertise on billboards and what to say behind closed doors. Infringement procedures following the Fidesz-government's aggressive actions will not fade into oblivion without consequences.
Orban has lost the battle and capitulated once again. If we are tired of being collectively punished as a people because of the actions of Orban's illiberal system, we must change the Fidesz-government that is effectively Putin's puppet regime. To do just this at the 2018 elections, Laszlo Botka represents our best and only chance.
MEP Istvan Ujhelyi
Vice-President of the Hungarian Socialist Party
28.04.2017.