Published: 15.9.2021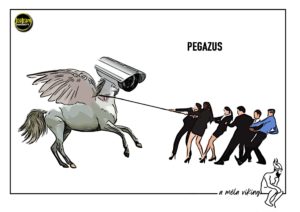 The global Pegasus spyware scandal is also high on the agenda of today's plenary session of the European Parliament. I have submitted the following written commentary on the matter as a Hungarian MEP:
"There is no question that the Pegasus spyware case is an international scandal that cannot remain without meaningful consequences. Extensive fact-finding work by journalists and investigations carried out in several countries since then have proven that the spy software was used by some government related or other organizations to monitor journalists, opposition politicians or even state leaders. It is an important fact that, according to the information available to us to date, the current Hungarian government led by Viktor Orbán is the only one among the European Union Member States to be in possession of this software.
It is a fact that Fidesz uses every possible means to obstruct the investigation of the use of this software in Hungary, obstructs the work of the Hungarian Parliament's relevant committee, and refuses to disclose data of public interest that may arise in this case, in contravention of the law.
We know for a fact that the Orbán government has authorized a record number of surveillance operations as of late, but all information regarding the background of these operations is kept secret.
The very fact that a European Union Member State is involved in this serious international scandal must have appropriate consequences. The Orbán government's skulking in this matter is also a serious threat to the European Community. That is why I expect EU institutions to use all possible means to force the Orbán government to account for its use of the Pegasus software and prove, with adequate guarantees, that it did not use the spyware for the immoral surveillance of journalists, politicians or even European partners. Clarity is in the interest not only of Hungarian people, but also of the European Community at large."
István Ujhelyi
Member of the European Parliament
Budapest/Strasbourg – 15.09.2021.