Published: 11.4.2017
Ryanair, Europe's No.1 airline, today (11 Apr) hosted a round table discussion in the European Parliament aligning tourism and aviation policy agendas, where it announced its support for the 'European Capital of Tourism' initiative, a programme designed to boost tourism across the continent.
The event was sponsored by MEPs Istvan Ujhelyi (S&D, Hungary), Salvo Pogliese (EPP, Italy) and Claudia Tapardel (S&D, Romania) and was addressed by Ryanair's Chief Marketing Officer, Kenny Jacobs, who emphasised that low cost aviation is a key driver of regional tourism and job growth, and outlined how dynamic and original aviation marketing can support tourism diversification.
Ryanair Chief Commercial Officer, David O'Brien highlighted the positive impact of low cost airline travel to and between Europe's Regions for tourism, employment and social mobility, and how monopoly airport regimes and government passenger taxes distort markets to the Regions' disadvantage. While Amar Breckenridge from Frontier Economics demonstrated the enormous potential impact of Brexit on tourism, with UK travel typically accounting for between 10% and 40% of total EU travel for Member States, the urgent need for clarity of air access post Brexit was highlighted.
Ryanair welcomed the European Capital of Tourism initiative, a pan-European programme modelled on the successful European Capital of Culture concept, which has been allocated a budget of €2.5m over the next three years, which will see cities and regions bidding for funding by submitting progressive and innovative tourism development programmes to the European Commission.
In Brussels, Ryanair's Chief Marketing Officer, Kenny Jacobs said;
"As the largest airline in Europe, Ryanair is pleased to support the European Capital of Tourism initiative. Some 130m people will fly with Ryanair across the continent this year and we have seen first-hand the regional tourism growth and job creation that low cost aviation brings, especially for Europe's youth. We are pleased to have the opportunity to work closely with members of the European Parliament and with the European Commission on the European Capital of Tourism project, and we look forward to playing an important role in its development in the coming years. Much like Ryanair's low fares, this will help put even more of Europe's cities and regions on the map."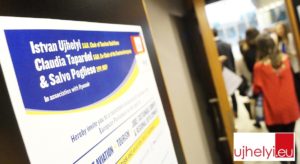 In Brussels, Ryanair's Chief Commercial Officer, David O'Brien said;
"Ryanair now flies to over 200 destinations in 34 countries and the potential for further growth in existing and unexplored markets is vast. However, regional tourism is particularly vulnerable to monopoly airport regimes and passenger taxes which have no relationship with the fare paid by the customer. We welcome the European Commission's review of the Airport Charges Directive, and call on the governments across Europe to lift the excessive tax burden from regional airports."
István Ujhelyi, S&D, Chair of the Tourism Task Force said;
"Low cost aviation, together with tourism, could create jobs, sustain growth and enhance regional development. In the face of the current challenges we have in Europe, including Brexit, the 60th anniversary of the European community and the transnational threats we must remain united and voice our common interests. That is why I have prepared a document entitled European ReUnion, where I put forward progressive ideas to reorganise, rebuild, and re-orientate our union.
In this paper, one of the key messages is to find and establish the real decision-making link between the local community and the regions, at European level. I would like to give a bigger role, more responsibilities and political space for the regions and the regional representations in Brussels. The European Capital of Tourism is an excellent project to help this process."
Claudia Tapardel, S&D, Co-Chair of the Tourism Intergroup said;
"Tourism and aviation are two strategically important sectors that make a strong contribution to the EU economy. As demand for travel increases, aviation can boost tourism by raising the profile of less known, but equally attractive destinations. This diversification of the offer will in turn deliver growth in more regions and therefore achieve the cohesion goals of the EU.In order to preserve Europe's position as the world's top touristic destination, it is now vital to ensure that there is a proper coordination between these sectors, and that policy reflects consumers' expectations."
Salvo Pogliese, European People's Party MEP said;
"Low cost airline companies play an essential role in increasing the flow of tourism, leading to a significant growth in demand, the expansion of destinations and encouraging the seasonal adjustment. Therefore, the new European aviation and tourism agendas must take into account the important role played by low-cost airline companies."
11 Apr 2017
Recent posts