Published: 20.9.2022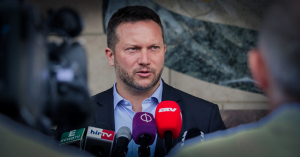 "It is not the Orbán government that has won with the Brussels decision, but a European Hungary," this is how Socialist MEP István Ujhelyi assessed the latest decision of the European Commission. In an online press conference on Tuesday, the politician said that the Fidesz government had backed down for the moment, admitted its own previous guilt and had undertaken to comply with the law. Ujhelyi added, however, that EU officials are not "new to the game" and were only putting the Hungarian government to the test, saying that if it does not implement real and far-reaching changes by mid-November, we could indeed lose the EU funding earmarked for us.
By calling the negotiations a success after the decision to withdraw 3,000 billion forints of money, saying that the proposals put forward by the Hungarian government "remedy the concerns", Justice Minister Judit Varga, in effect admitted herself that the EU and the Hungarian opposition's previous objections to the rule of law and the use of public funds were justified, the European politician said. "The European Commission's investigation and decision confirmed that over the past twelve years Orbán and his pals have acted against the EU's budgetary interests and thus against the interests of Hungarian taxpayers," the MEP pointed out.
At the press conference, Ujhelyi said that he was rooting for Hungary to receive every single EU subsidy, which is in the interest of every Hungarian citizen in opposition, too. However, if the country loses a single euro cent, it will be the sole responsibility of the Fidesz government. He added, however, that he would not accept any sham measures from the government and would support any demand from Brussels to improve the rule of law in Hungary. The MEP said that he was politically in favour of signing the cooperation agreement and ending EU investigations, but that every day he would be "breathing down the government's neck" to expose it if necessary if the commitments they made to the EU were only a way to trick the EU and Hungarian citizens.
Budapest/Brussels – 20/9/2022