Published: 8.12.2021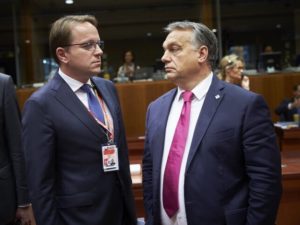 Despite his request for concrete information on the truthfulness of the alleged pressure exerted by the Hungarian government in Brussels, the MSZP MEP has not received a reply to his written inquiry to EU Commissioner Olivier Várhelyi for more than two months. This was reported by István Ujhelyi at an online press conference in Brussels on Wednesday.
In a video broadcast on his social media website, the socialist politician said, among other things, that Fidesz was making statements and wanting to hold a referendum on issues that had nothing to do with reality.
Ujhelyi recalled that according to government statements, the European Union institutions were punishing the Hungarian government for resisting "Brussels'" efforts to allow LGBTQ activists into Hungarian schools and kindergartens to promote, among other things, sex-change operations to children. According to István Ujhelyi, this is utter nonsense, yet, he added, many people believe "this nonsense" because they are ignorant of the reality of the government's claims.
The MSZP MEP added that he had written to EU Commissioner Olivier Várhelyi in September to seek clarification of the matter and to inform the Hungarian public. In his letter now made public, Ujhelyi pointed out that Várhelyi's EU mandate letter also clearly states that the European Commission "operates on the principle of collegiality", i.e. all Commission decisions are taken jointly and represented jointly. Accordingly, the MSZP MEP pointed out, the Hungarian government's delegate, Oliver Várhelyi, should also have precise and clear information on this issue.
Among other things, Ujhelyi expects the Hungarian commissioner to answer the question whether, as a Hungarian member of the European Commission, he is aware that the EU body has put Hungary at a disadvantage because, as Fidesz claims, it disagrees with the current Hungarian government's position on the refugee issue and, more specifically, because the Orbán government does not allow LGBTQ activists into Hungarian kindergartens. Ujhelyi said he would like Várhelyi to confirm whether as a Hungarian member of the European Commission he had supported the negative decisions taken against Hungary because of this issue, and if the Hungarian government's statements on this issue are, in fact, not true, whether he has indicated to the Orbán government that they were knowingly or mistakenly spreading false information about the European Commission and European processes, thus misleading the Hungarian electorate.
"Unfortunately, Commissioner Várhelyi has not been able to answer these questions for two months now. (…) No one has ever been able to build cooperation on lies, while that is exactly what we need with the EU institutions and the other Member States," István Ujhelyi added in his online press conference.
Brussels/Budapest – 08.12.2021.