Published: 20.5.2021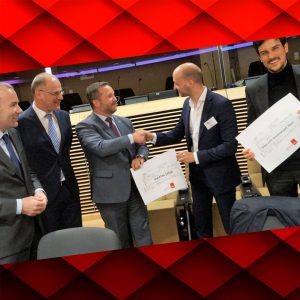 Another success, another important milestone in securing the future of the free InterRail season ticket programme that I mentor: the European Parliament has just adopted by a large majority in its plenary session the framework budget for the Erasmus+ programme for 2021-2027, including the DiscoverEU programme for free train passes.
It as an important and hard-fought achievement that the Erasmus+ funding envelope will be almost double the one for the previous period: it is now around €28 billion, which helps increase the number of people benefiting from Erasmus+, expand the range of grants for learning abroad and simplify accessibility. For me, it is an historic success that, despite the efforts of many opponents, we have managed to include the free InterRail pass programme in Erasmus+, which will ensure the long-term operation of this pioneering programme, at least for the next seven years.
Therefore, thousands of young Hungarians will again be able to benefit from free train passes in the coming period, with this year's combined application opening in October; travel will be possible after the epidemic has passed, of course. This year alone, around 1 100 young Hungarians will be able to apply for the passes, including those who missed out last year due to covid restrictions.
The idea for "FreeInterRail" came from two young German activists, Vincent-Immanuel Herr and Martin Speer, who proposed a few years ago that the European Union surprise every young person in Europe with a free train pass on their 18th birthday. I was one of the first people to take on the initiative and supported it until implementation, with EPP Group President Manfred Weber and former EU Commissioner Tibor Navracsics also on board, which played a major role later on. During the pilot period of the programme, more than 350,000 young Europeans signed up, of whom more than 70,000 received a free train pass. The success of the initiative is also demonstrated by the fact that the number of oversubscriptions for the passes available in Hungary was almost ten times higher than the number of applications received, and the programme has won numerous awards, including the European Excellence Award.
MEP István Ujhelyi
Brussels/Budapest – 19.05.2021.
Recent posts