Published: 4.1.2021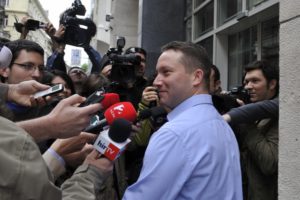 In January, the opportunity will be there again for the Hungarian government to request EU funding to help employees in trouble.
For the time being, however, the question is whether Fidesz will use this opportunity, said MSZP MEP István Ujhelyi at his online press conference on Monday. The Socialist politician said that he had addressed a written question to EU Commissioner for Employment and Social Rights Nicolas Schmit, who had recently informed him that the remaining free funds would be made available to Member States who had applied for the SURE-program, including Hungary, in a second round of applications, with a total value of around € 9.7 billion.
Ujhelyi said that the Hungarian government should indicate its intention to apply as early as January as well as the purposes for which it intends to spend this extremely favourable EU loan.
At the press conference, MSZP's European politician recalled that the SURE-program was launched this spring to help protect jobs and employees affected by the coronavirus epidemic, including by supporting reduced or part-time employment or even wage supplements for the self-employed. Of the 100 billion euros, many Member States requested funds, but Ujhelyi said that Hungary asked for surprisingly little: while the Czech Republic claimed 2 billion euros, Poland 11 billion euros and Romania 4 billion euros, the Hungarian government could only bring a 504 million euro budget from Brussels.
At the press conference, the politician of MSZP said the Hungarian government had to be "encouraged" to apply for this amount of money at all, and later they even tried to refuse to tell exactly what it would be used for. Ujhelyi pointed out that the government is post-financing, among other things, the temporary tax relief granted to small taxpayers and the short-term extension of family benefits from the EU loan requested under the SURE program, but it was also used to finance the oayment of the one-off benefits to health care workers (which MSZP proposed initially and the government finally introduced it).
"We applied for little money in the first round, but thanks to our successful lobbying, now is another opportunity for the government to step up again and bring home another amount from Brussels. It is time for Fidesz to finally address people's real problems instead of constant propaganda and lying. Lay on the table proposals made by the opposition, such as programs jointly developed by MSZP and the trade unions to help employees.
You go, Government!
Start working and governing finally," stated István Ujhelyi, adding: he expects the Hungarian cabinet to make it clear as soon as possible for what purposes and in what amount they want to apply for EU support from the reopening framework.
Budapest / Brussels – 28.12.2020.