Published: 13.1.2021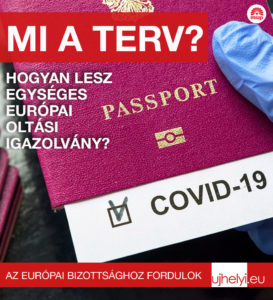 MSZP's MEP will consult the European Commission and the Hungarian government in connection with the development of the vaccination certificate system, as the development of uniform regulations still seems uncertain, István Ujhelyi announced at his online press conference on Saturday.
The European politician of MSZP reminded that the final document adopted also by the Hungarian PM at the last meeting of the European Council in early December had already addressed the issue: it called on the European Commission to develop a framework for coordinated implementation. "Since then, however, there is only silence. The government does not provide adequate information on this matter, either."
"It is not known how and which professional organisations and communities had been involved in the preparation of this extremely important regulation," Ujhelyi said, adding that although the Prime Minister and some members of the government have indicated that there would be a kind of 'digital vaccination passport,' but no one said anything about the details or the preparation process since.
However, according to Ujhelyi, in addition to implementing a mass vaccination plan as quickly and comprehensively as possible, this is one of the most pressing issues, as Member States will soon announce one after the other that EU citizens will only be able to cross their borders with a valid vaccination card. Moreover, there are already proposals in place to certainly introduce this obligation in the near future for sporting events, international festivals or even airlines.
According to the European politician of MSZP, the Hungarian government should respond as soon as possible regarding the way it wishes to deal with the situation of Hungarian citizens who are forced to travel due to their work or school obligations (for example: truck drivers, traders, commuters, students) but fall into the last categories in the vaccination plan made public recently. They will soon be affected by this type of restriction. "I am glad that, at the urging of the opposition and as a result of the demands of MSZP, the government has begun to take its task seriously and, albeit belatedly, they are finally working on the adequate preparation for mass vaccination.
However, if there is no proper European coordination on vaccination certificates, we will soon find ourselves in the same situation as in the spring, when Member State governments began to take action and close borders independently, which found the players in the economy unprepared and affected them adversely, for example, in tourism.
A responsible government must present its position on this," said István Ujhelyi, emphasizing that as the first Vice-Chair of the European Parliament's Committee on Transport and Tourism, he also wants to put pressure on the European Commission in order to achieve effective and properly coordinated regulation on the issue.
Budapest / Brussels – 09.01.2021.