Published: 24.4.2022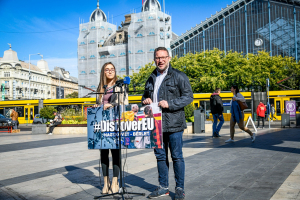 István Ujhelyi has nominated the Alternative Student-Centered Education Movement (ADOM) , and with them symbolically Hungarian young people who follow European values, for this year's European Citizens' Prize, the MSZP MEP announced on his social media page.
In his reasoning, the European politician highlighted that the ADOM Student Movement has actively contributed to the promotion of the free InterRail pass programme (DiscoverEU) in Hungary, and as the voluntary ambassadors of the programme, they have spread the word of the opportunity to thousands of young Hungarians and helped them to submit their applications.
Ujhelyi added that the ADOM Student Movement is a role model not only in its advocacy work, but also in organizing youth cooperation and in authentically promoting European values, which is why he decided to nominate the organization.
The prize is awarded to the winners every year by the European Parliament. The European Citizen's Prize is open to individuals or organizations that have made an exceptional contribution to deepening mutual understanding and fostering closer integration between citizens of EU Member States, or who have strengthened the European spirit through, for example, cross-border cooperation.
Nominations are assessed in each Member State by a national jury of three MEPs, one national NGO and one national youth organization. Their shortlist of up to five candidates is forwarded to the European Citizens' Prize Board of Trustees, which takes the final decision on the winners, chaired by the President of the European Parliament.
Budapest/Brussels – 22.04.2022.
Recent posts