Published: 20.9.2020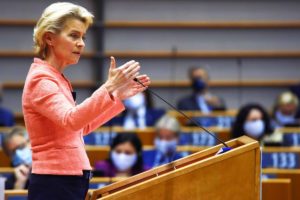 I consider it a significant breakthrough that in her annual State of the Union Address President of the European Commission Ursula von der Leyen also stood firmly behind the concept of the European Health Union which I advocated. This clearly marks the path and the opportunity for the widest possible implementation. I also consider it an important breakthrough that the number one person of the Commission has also raised the issue of rethinking the health competences of the Member States, as this is essential in order to eliminate the serious discrepancies that exist between health systems.
I had an important commitment at the beginning of my second term as MEP to put on the table of European decision-makers a comprehensive concept that ensures minimum standards of quality healthcare in all European Member States and guarantees patient safety. Not only domestic but also international professional organizations took an active part in this work, and the Social Democratic Group in the EP also took on to promote my initiative as their own.
It was an important milestone a few weeks ago, when this finally became one of the cornerstones of the health strategy adopted by a large majority in the European Parliament. Today's clear statement by the President of the European Commission is another significant step forward. Parliament and the Commission are therefore ready to set up the European Health Union, therefore we expect the European Council, including the Heads of Government of the Member States, to take part in the joint implementation.
Without strong healthcare, there is no strong nation. Without strong care systems, there is no strong Europe.
István Ujhelyi
MEP (MSZP)
Brussels, 16/09/2020